Church Tour
Our church was built in 1885 and we just love it.  But it does need some TLC (tender loving care) once in a while.
Here are some of the projects we have undertaken lately.
Along with painting the church interior walls, the floors were also sanded and repainted.  We had to store the pews for a week or so and rented a storage trailer and parked it in front.  Fresh paint and new floors really brightens up the interior.
Another project was to refurbish the upstairs classrooms.  The rooms had really gotten run down and were being under utilized.  The first step was to take off the old interior bead board siding and add insulation. Now they are completely redone and used for Sunday School and other meetings.
In the fellowship hall, the old kitchen was usable, but spartan and lacked storage space.
As you can see the refurbished kitchen is really outstanding and very organized.
The next major project we will be working on is refinishing and reupholstering the pews.  No one can remember the last time the pews were redone and now, with the new carpet, the red color of the fabric does not match.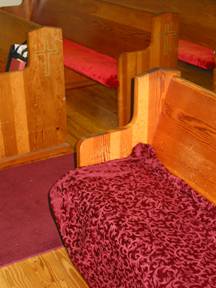 It's hard to tell, but the outside of the church has been repainted and that goes a long way toward preserving the building.  We have also added some new windows to replace the old yellow plastic and an overhang over the side door at the top of the handicap ramp.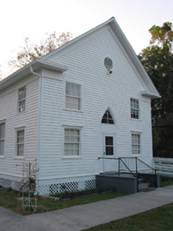 Another very big and important project has been the purchase of the old Bass house right next to the church property.  We now use this as our Educational Building and it is where all of our Sunday School classes meet along with the Nursery.  This project has been a real blessing for us in terms of space, but we are now committed to paying the morgage.  This is a huge responsibility for a small church like ours, but God is blessing our efforts.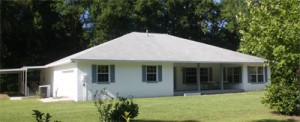 We hope you enjoyed this glimpse at our Church building. It is small & quaint and quite old, but it has been here as a tribute to The Lord and those who believe and follow Him from the laying of its foundation to now.  For a small Church, if it could speak, it would give you a long list of those who have found their way into the Book of Life under its roof.
***
CAN YOU HELP US? We are looking for old photos of our church and descriptions of it's history.  If you can help us, please e-mail us through our Contact Us page.  If you are close by, someone can come over and take photos of your photos so they will never leave your home.  If you can send us the photos we will copy them and send them back.  We would really like a complete visual history of our church and we pray you can help.  Thank you.